DIRTY AIR BASIC REAR V-ROD NIGHT ROD MUSCLE REAR AIR SUSPENSION SYSTEM VROD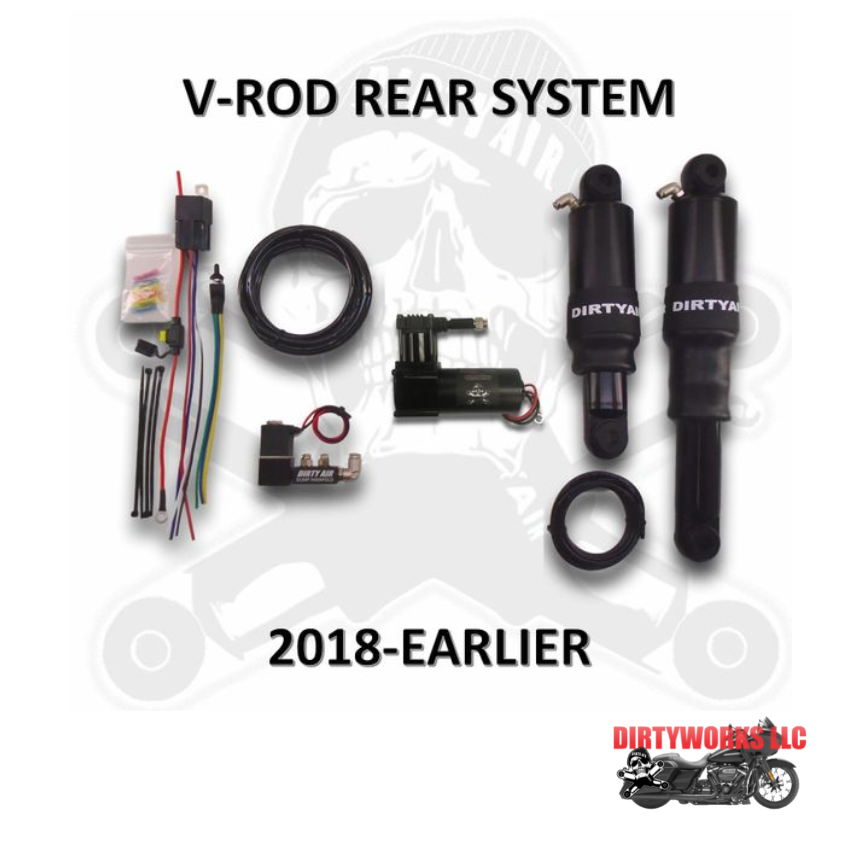 DIRTY AIR BASIC REAR V-ROD NIGHT ROD MUSCLE REAR AIR SUSPENSION SYSTEM VROD
Regular price $1,390.00 Sale
Available:
Contact us to place an order
 DIRTY AIR rear sir suspension system for V-Rod models.  Designed for optimum performance, reliability and ease of install.
***DEFAULT COLLAPSED HEIGHT 10.75" FOR STOCK APPLICATION.  IF YOU HAVE AN AFTERMARKET FENDER AND CAN GET LOWER THAN 10.75" (MEASURED FROM CENTER OF TOP BOLT TO CENTER OF LOWER BOLT), OR NEED MORE CLEARANCE FOR A LARGER TIRE, YOU CAN SELECT YOUR DESIRED COLLAPSED SHOCK HEIGHT IN THE DROP DOWN MENU ABOVE***
Fits all V-Rod models 2017-down.  This is a complete system assembled to replace your stock shocks with premium aluminum height-adjustable air shocks.  This kit will allow you to lower your bike with all of the air released, air it up to stock ride height for a smooth ride in a matter of seconds, and adjust to any height in between.  System includes DIRTY AIR aluminum V-ROD air shocks, standard finish is black anodized.  Standard collapsed height 10.75", extended height 13.75".  System includes exclusive black air compressor, with basic bracket to allow for custom install compressor in the air box.  System uses all nickel-plated brass high-flow high-pressure push-to-connect fittings throughout the entire system, and a manifold-style dump valve block for optimum performance.  This system includes all of the components for a fully functional, fully height adjustable rear air suspension.   With this system, you can ride with zero air pressure without rubbing. That means you can cruise around with your bike SLAMMED, or also if you ever lost air pressure for any reason you can still ride without rubbing your tire against your fender.  Professional installation recommended but not required.  Please note: Vrod models have very little space for air components such as compressor and valving.  Plan on custom installation inside of the airbox that may require mild fabrication.  System comes similar as pictured, some parts may vary.  Shocks are 13.75" extended, 10.75" collapsed.  Switch is a mini toggle switch that mounts in a 1/4" hole, and includes a protective waterproof boot.
1 year warranty on all parts, price may fluctuate a little depending on currency exchange on the day of purchase.
Contact us to order yours today.