DIRTY AIR "STEALTH" Fast Front+Rear Air Suspension System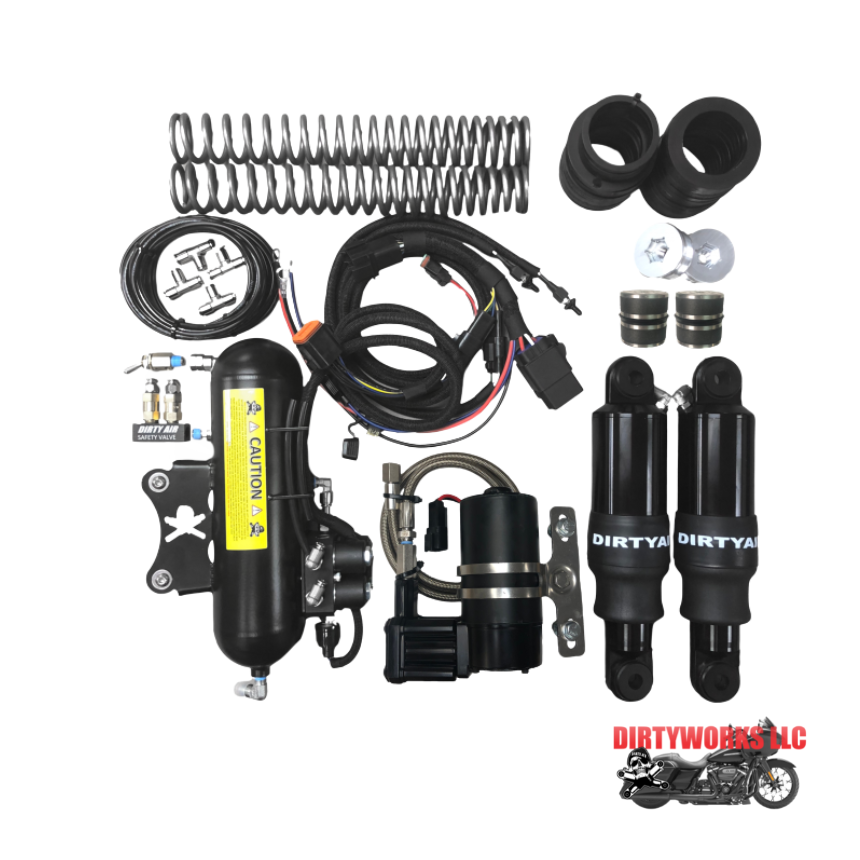 DIRTY AIR "STEALTH" Fast Front+Rear Air Suspension System
Regular price $2,600.00 Sale
Available:
Contact us to place an order
SKU:
Category: Air Ride, Dirty Works, Dyna Ignition Systems, SUSPENSION
Tags: Air Ride, Dirty Works, dyna, electra glide, roadglide, roadking, street glide, suspension, tourers, ultra glide
DIRTY AIR Complete front and rear fast-up system, "STEALTH" Series.  This is the most comprehensive, highest quality air system available for HD touring models.  Built to fit nearly any HD touring model regardless of factory/aftermarket options (including dual exhaust) and take any guesswork out of purchasing a front+rear fast up air system that fits your bike.  Stealth system includes all of the highest quality components - DIRTY AIR premium aluminum rear air shocks, stainless steel air tank with high pressure solenoid valve manifold, 40Cal air compressor, front end components with bump stops, safety valve and all other hardware and parts for complete plug-and-play simple installation.  Select your year and triple trees/wheel size.  Compressor mounts to left side fender/saddlebag support, tank mounts to right side fender/saddlebag support.  System includes installation instructions, we do suggest professional installation but it is not necessary.

'14-'20 Models with Boom Audio and '21-Later models with Rockford Fosgate Audio that includes stereo components inside the saddlebags will have fitment/clearance issues with saddlebag-mounted wire connectors, requiring re-routing of audio wires and connectors.  Click here for spacers/plates to help

2009-2013 models with "classic" 4-hole tab welded to saddlebag support for saddlebag guards or fender filler panels will not fit the tank or compressor without cutting the 4-hole tab off the saddlebag support or replacing with a standard saddlebag support.
2014-2016 HD Touring models use the factory fork springs.  New springs are not required or included for those years unless requested due to replacing aftermarket lowering springs.

On some models, antenna relocation or antenna bracket modification may be necessary.  

 Fender support mounted tank/compressor will not fit with 2014-up rear fender strut filler lights
Please note, with front+rear air, the frame of the bike will sit low enough that the stock kickstand (or even a lowered kickstand) will not allow the bike to lean over far enough to rest securely.  An electric center stand is highy recommended for bikes with front+rear air, MRI center stand is recommended.
Optional handlebar grip switch will not fit 2015-up Road Glide models due to anti-rotation pin/hole in stock handlebars.  Aftermarket bars work as long as they are not 2015-up Road Glide specific.

Please note that many system parts will vary with year and other options selected, some parts may not be included or not exactly as pictured.

Stealth system vs. El Grande system:  Both systems are a "fast-up" system which will give you an instant lift.  Both systems use the DIRTY AIR 4-valve manifold with a stainless steel tank, and DIRTY AIR front fork components.  Stealth system always includes our premium alumium shocks, whereas the El Grande system includes our steel shocks with optional upgrade to our aluminum shocks.  El Grande has a couple of tank and compressor mounting options, whereas the Stealth system always incudes our rear fender strut mounted tank and compressor option.  Stealth includes front fork bump stops and fork caps if necessary (based on your triple trees), El Grande has options to add bump stops or fork caps if necessary for an additional charge.  Stealth system includes plug-and-play wiring, El Grande includes all wiring components but connections must be made by installer.  El grande has some larger tank and compressor options, so if your bike has side dump exhaust and stretched saddlebags, those larger components will fit and offer a faster lift under more rider/passenger/luggage/stereo weight.

What's the difference between the steel and aluminum shocks?  Aluminum shocks are overall higher quality shocks.  They are built from higher quality materials have a more advanced design and valving system, which not only allow for optimum reliability, but also offer the most comfortable ride available and the best performance available.  If you are looking for the best air shocks available for your bike, the aluminum shocks are what you are looking for.  Steel shocks have a more basic design and valving system, which helps make them more cost effective.  Steel shocks still ride and perform very well and are very reliable, and are a great way to keep the cost down on an air suspension system.
1 year warranty on all parts, price may fluctuate a little depending on currency exchange on the day of purchase. 
Contact us to order yours today.